BWSS stands with the women and girls of Iran and East Kurdistan who are leading the "Woman, Life, Freedom" revolutionary movement to fight for liberation from the Iranian governments' brutal Islamic regime.
We hold in our hearts the women and girls who are risking their lives to protest the patriarchal tyranny that has endangered their lives since the Islamic revolution in 1979.
This new wave of protests in Iran is one of the biggest women led movements we have seen, and we are in awe of the bravery and tenacity of the women and girls of Iran and East Kurdistan.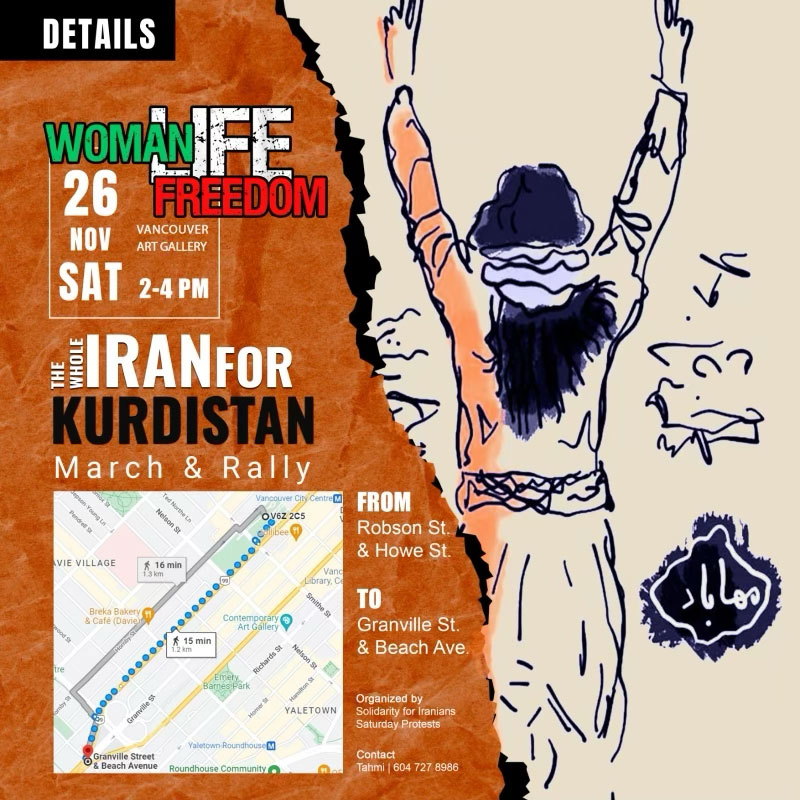 In response to the global call to commemorate the International Day for the Elimination of Violence against Women, BWSS announces that we will stand in solidarity with Iranian and Kurdish women and girls at tomorrow's gathering at the Vancouver Art Gallery.
We join the call for justice for the hundreds of protestors who have been killed by the Iranian government in its crackdown against this revolutionary movement for freedom and liberation for women and girls.
The "Woman, Life, Freedom" movement began with the killing of 22-year-old Kurdish woman Jina Amini, known by her Iranian name as Mahsa Amini, on September 16, 2022, by religious morality police in Tehran.
While shopping with her family, Jina was beaten and arrested for not wearing her hijab in accordance with government law. She died in hospital three days later, likely due to a cerebral hemorrhage or stroke caused by police brutality. Jina's death ignited long-simmering rage towards Iran's violent and oppressive government. In the days and weeks to follow, Iranians organized and rallied in support of Jina and her family, and in protest against the Islamic regime that controls and subjugates women and girls. Many women and girls took to the streets, publicly removing their hijabs and cutting their hair in defiance of Islamic laws governing women's bodies.
The phrase "Woman, Life, Freedom" was first used during Kurdish feminist resistance movements in the late 20th century.
As the "Woman, Life, Freedom" movement spreads across Iran, we recognize that women in Kurdish communities are amongst the hardest hit in Iranian government crackdowns against protestors. The Iranian government appears to be escalating efforts to suppress Kurdish communities, with the Kurdish human rights group Hengaw estimating that at least 42 people in Kurdish communities have been killed within the last week.
Like many, BWSS has been watching this revolution unfold rapidly on social media.
We see social media as an important tool to protect women and girls and keep them safe by shedding light on the dangers they face. We recognize the importance of social media to democratize information sharing and we support Iranian, Kurdish, and other minoritized women in their use of the use of TikTok, Instagram, Facebook, and other social media platforms to make visible their struggle for freedom. On TikTok, we have seen the movement from the eyes of women and girls themselves, especially in first-hand perspectives of protests in the streets and the heartbreaking "GRWM (get ready with me) to get killed in Iran" videos.
Social media has been an effective tool in the movement and has been key to holding the Iranian government accountable on the international political scene.
We support the UN Human Rights Council's commitment to investigating the Iranian government's violent takedown of protestors and its crimes and abuses against Iranian, Kurdish, and other minoritized women and children.
This new revolutionary movement only continues to grow and BWSS stands with the women and girls of Iran and Kurdistan as they fight for their liberation from gender-based violence and oppression.